It's all about peace of mind with Circa Energy!
Its no secret that for the last 20 years, electric rates have been increasing across the United States. The California Electric Company in 1879 created the early beginnings of the electric grid we now use today. This outdated system is in constant repair and costing a lot of money to maintain. When repairs are needed, the consumer pays in the form of electric rate hikes. If you don't like the sound of this, and you shouldn't, then there is finally a "choice" to use alternative energy such as solar where you can choose a lower rate that is now "predictable."
Unpredictable rate hikes can be a thing of the past with new solar technology by Circa Energy.
Not only do you get predictability and control of your electric bill for the next 20 years, but you're able to save a bundle on your electricity with clean power!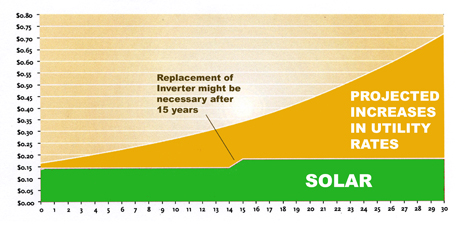 About Circa Energy
Circa Energy is a clean power company started by solar people. With over 10 years combined experience, we're dedicated to making clean affordable energy more accessible to everyone while providing the highest standards in the industry.
Call for a free quote:
(800) 315-7754
Request A Free Quote
Every home and business is different, let Circa Energy offer clean affordable energy that's right for you.​